Training and Workshops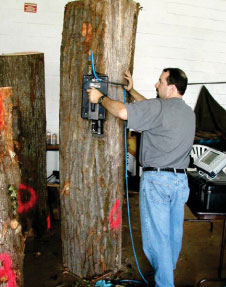 TreeRadar is dedicated to supporting its customers so that the TRU system is used in both the proper and optimal fashion.
The purchase of each system requires two days of training at TreeRadar's headquarters in Silver Spring, Maryland (a Washington, DC suburb). This is a hands-on training course with each customer's designated personnel using their own TRU system. Alternatively, training can be arranged at a customer's site.
Customers may later request additional training for a variety of reasons such as new hires needing to be trained and refresher courses. TreeRadar will work closely with you to meet your company's unique needs. Training can be arranged at the customer's site.
One-day workshops will be offered periodically with dates posted on TreeRadar's Web site. These workshops provide extensive hands-on field data collection experience for scanning both trunks and roots. Attendees will gain familiarity with the TRU system and can then determine its usefulness in their individual practices.